GSMA's Mobile World Congress (MWC) 2023 in Barcelona—the largest and most influential event for connectivity—is expected to attract over 80,000 attendees from 200 countries and over 2,000 exhibitors. This year's event will explore themes of 5G acceleration, immersive technology, open networks, fintech, and 'Digital Everything', encompassing intelligent solutions, Internet-of-Things, Industry 4.0, and how every industry and enterprise stand to benefit from these immense opportunities in the digital space within a global digital ecosystem.
At MWC 2023, Huawei Cloud will showcase its goal of unleashing new digital value through Everything-as-a-Service, a framework designed to enable and connect diverse local and global partners—whether individual developers, small enterprises, or multinational corporations—to maximize the potential of the cloud. Everything-as-a-Service brings together Infrastructure-as-a-Service, Technology-as-a-Service, and Expertise-as-a-Service in a unified approach to provide a complete range of digital solutions within a comprehensive ecosystem of partnerships.
"Huawei Cloud delivers everything-as-a-service to help carriers accelerate their application modernisation and jointly develop the enterprise market to unleash digital productivity," says Jacqueline Shi, President of Global Marketing and Sales Services, Huawei Cloud.
Visitors can also expect new key releases such as:
Pangu AI Models – pre-trained foundation models with billions of parameters, which have been used in over 100 scenarios across more than 10 industries such as healthcare and energy
Landing Zone – an end-to-end solution that provides cloud resource management, and access control capabilities, which mapped to the business architecture of large enterprises 
Cloud on Cloud – a digital solution that enables carriers to quickly obtain Huawei Cloud capabilities through resale, dual brands, or self-build brands, and allows businesses to build and operate their own cloud services
When combined, the offerings allow partners to leverage Huawei's deep know-how stemming from 30 years of experience in ICT innovation, recognised by Gartner's 2022 Magic Quadrant for Cloud Infrastructure and Platform Services for its Ability to Execute and Completeness of Vision.
Unleashing the Potential of the Cloud through Ecosystem Building
Cloud adoption is booming as enterprises identify technology as a key driver of business success. AI-enabled services and powerful scalability options are among the benefits being leveraged by organizations as they drive digital transformation projects. IDC forecasts global cloud spending to exceed US$1.3 trillion by 2025, and by 2027, experts predict that cloud adoption will have become mainstream, with nearly 90% of organizations implementing some degree of cloud strategy.
However, for many enterprises, particularly start-ups and Small-Medium Enterprises (SMEs), the infrastructure investment, technological know-how, and specialised skillsets required for the transition to the cloud are potentially prohibitive.
Huawei Cloud addresses this by focusing on building shared excellence and developing the cloud ecosystem, with aims of building a partner network, empowering developers, and providing an application distribution platform for developers and customers in an ecosystem that is accessible to all.
Guided by the principle "to go fast, it is best to go alone; but to go far, we must go together", Huawei launched its new partner network in June 2022 in its effort to go and grow with partners. This comprises two cooperation frameworks, GoCloud and GrowCloud.
GoCloud aims to broaden partner competencies on Huawei Cloud. Supported by Huawei's developers and solutions architects, partners can re-engineer their applications and architecture to cloud-native, as well as build new products, solutions, and services on Huawei Cloud. On the other hand, GrowCloud focuses on driving depth, helping existing partners expand their customer base and grow revenue streams, premised on the idea of shared success.
This is complemented by KooVerse, Huawei Cloud's global distributed cloud infrastructure designed on a unified architecture, provides partners with computation, storage, and networking as a service. The platform offers secure, stable, 50 m/s latency networking capabilities via more than 2,000 carrier networks, making it accessible to partners in over 170 countries in 78 Availability Zones, spanning 29 regions across the world.
The recent opening of a Centre of Excellence in Singapore, the European Cloud Hub in Ireland, and the launch of the Indonesia Region further attest to the rapid growth of Huawei Cloud's global network while underscoring the emphasis Huawei places on the "In Local, For Local" principle which respects local business culture and supports local industry in every region they operate in.
Experts tout 2023 to be the year when new AI-powered tools and services make their presence felt across industries. Giving businesses a head start in the AI space is the cloud-native database GaussDB, which offers high-performance, high-availability, and secure real-time data lake capability to maximise enterprises' data value.
Huawei Cloud also focuses on three core AI technologies, namely large pre-trained Pangu models that can be used to accelerate AI development and operationalisation, Opt Verse AI Solver designed to deeply integrate AI with operations research, and knowledge computing that uses AI to extract, express, and compute knowledge. Four DevCloud pipelines, comprising MetaStudio for digital content production, ModelArts for AI development, CodeArts for software development, and DataArts for data governance, offer developers, data scientists, and AI scientists the means to share, collaborate and work efficiently as a team from any location, within the same platform.
Beyond the technological aspect, SMEs and start-ups will need deep partnerships that can enrich their offerings to go further. With Huawei Cloud, they can connect with partners they need to thrive, such as system integrators and hardware providers, from among the developers and service providers within the ecosystem.
In turn, developers can connect with clients through the ecosystem while using the platform's Technology-as-a-Service resources to streamline development and submit their offerings through the KooGallery, the Huawei Cloud marketplace.
The Right Partner to Build the Right Cloud Foundation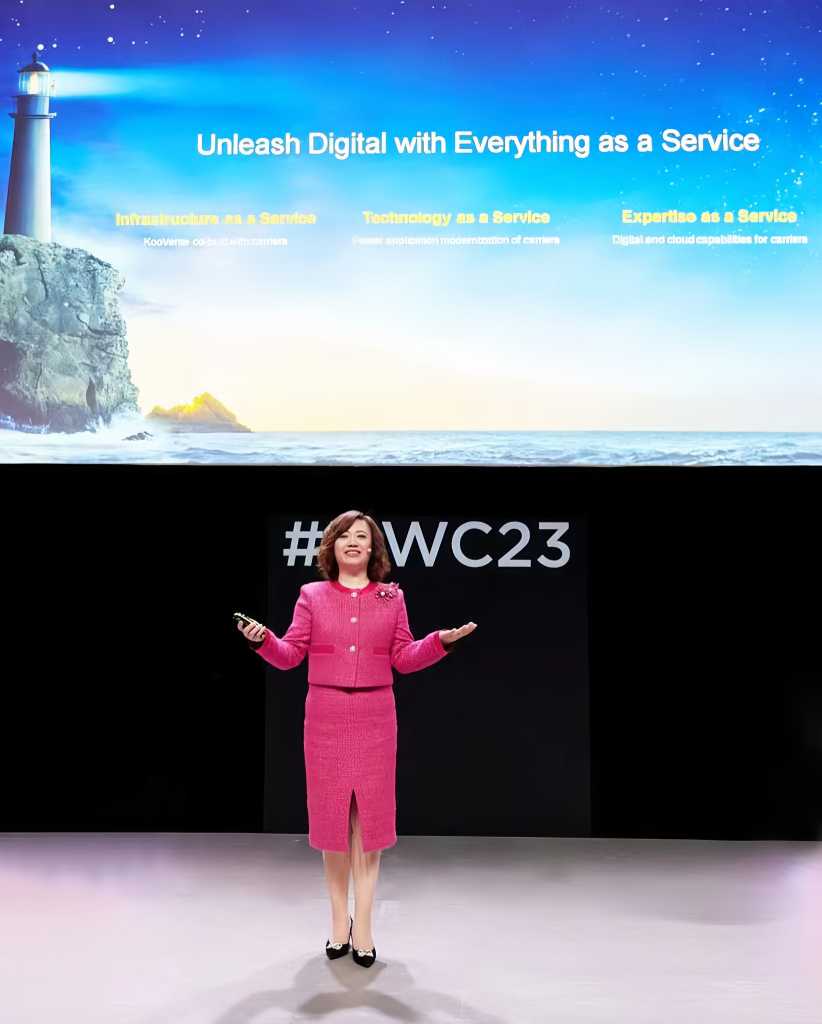 Huawei
Since its launch, the Huawei Cloud ecosystem has grown in capability and offerings, with more than 4 million developers and 41,000 partners making up a rich and diversified ecosystem, and over 10,000 offerings released in KooGallery.
Huawei Cloud's ecosystem continues to welcome global partners to share in its vision of a rich, diverse, and prosperous ecosystem that can unleash digital value through leveraging "Everything-as-a-Service." The ecosystem offers enterprises and organizations, regardless of size and resources, the chance to realise the true potential of digital technology and the cloud. Huawei Cloud's global infrastructure, innovative edge, and deep expertise make it the ideal partner for those who want to go far.
MWC 2023 will run from February 27 to March 2 in Barcelona, Spain. Huawei Cloud will launch a series of innovative product solutions to support digital transformation and enhance the cloud journey for enterprises.
For more details, please visit https://www.huaweicloud.com/intl/en-us/
Huawei

Read More from This Article: Everything-as-a-Service: Huawei Brings the Cloud Ecosystem Within Reach at MWC 2023
Source: News